I've often said that the creation of a collage is very similar to completing a jigsaw: I have to find just the right piece in just the right shape, size & colour to fit each gap.  The main difference is that there is no finished picture on the outside of a box, for guidance... 
My most recent 'jigsaw' turned out to be constructed of so many fascinating individual pieces that I thought I would share some of the details that went into building the final composition: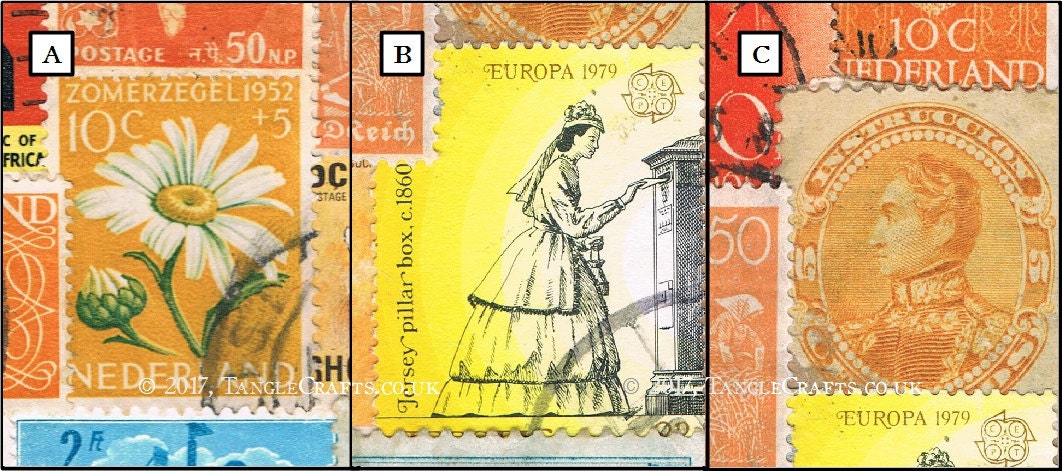 A - I've had my eye on this gorgeous daisy stamp from the Netherlands since I discovered it months ago.  (I used to be known as Daisy in some circles, years ago, so have always had an affinity with them!)  Although not the focal 'sun' of this piece, it was the first building block.  The egg yolk yellow provided a good blending shade into the surrounding deeper oranges.
B - There's always a special place in my heart for stamps which get a little meta and honour postal history itself!  This one commemorates an 1860 Jersey pillarbox as a Victorian lady posts a letter. Would have loved to stick this stamp on an envelope, when it was issued in 1979, just to be able to replicate the illustration!  And the glow of pale-to-bright yellow provided the perfect glow for my setting sun.
C - This stamp is the oldest one used in this particular jigsaw, dating from the 1890s.  I researched it a little after completing the collage, as I realised that - unusually - its country of origin was not actually stated (this is normally only the case for British stamps).  A little googling quickly revealed that this stamp is from Venezuela, and was used for tax/revenue purposes, and for internal postage - which is why it wasn't necessary to include the country details within the design.  I do occasionally worry when I collage with an older stamp that I may be destroying something of value.  In this case, however, philatelists can rest assured that this one was already very damaged!  The beauty of the collage process is that I can obscure missing corners or tears by the artful arrangement of another stamp nearby... ;)
And this is how the individual pieces combined to create the finished artwork: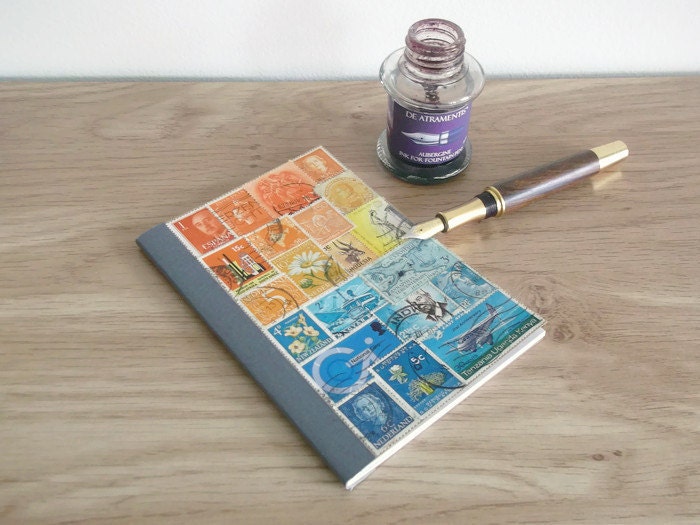 Click here to view full notebook details.